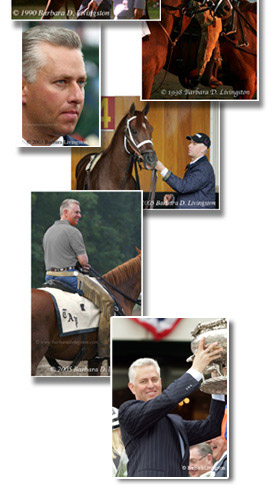 TODD PLETCHER BIO

Born 06/26/67 in Dallas, TX
Wife, Tracy; sons, Payton and Kyle; daughter, Hannah
Todd began working for his father, Jake Pletcher, as a hot walker at the age of 7 at Ruidoso Downs in New Mexico. Jake Pletcher was training quarter horses and thoroughbreds throughout the Southwest.
During his summers off from junior and senior high school, Todd worked as a groom for his father at Louisiana Downs in Bossier City, LA and at Ak-sar-Ben Racetrack in Omaha, NE.
Between his junior and senior years in high school, Todd went to Southern California, where he worked as a hot walker for Henry Moreno at Hollywood Park and Del Mar.
Graduated from high school in San Antonio, TX in 1985.
Todd began college at the University of Arizona Race Track Industry Program in Tucson, AZ in the fall of 1985.
Between his sophomore and junior years in college, Todd worked as a groom for D. Wayne Lukas at Arlington Park in Chicago, IL.
Todd spent the following summer with another Hall of Fame trainer, Charlie Whittingham, working as a groom at Hollywood Park.
Graduated from college with a Bachelor of Animal Science in May, 1989.
Todd traveled to New York to begin working for D. Wayne Lukas as a foreman immediately upon graduating from college.
In 1991, Todd was promoted to assistant trainer for D. Wayne Lukas, splitting his time between New York and Florida.
Todd was Lukas' East Coast assistant until the end of 1995, in which time he was instrumental in the development of such horses as Thunder Gulch, Harlan, Serena's Song, A Wild Ride and Flanders.
Todd took out his trainer's license in December of 1995 and saddled his first winner, Majestic Number, in February of 1996.